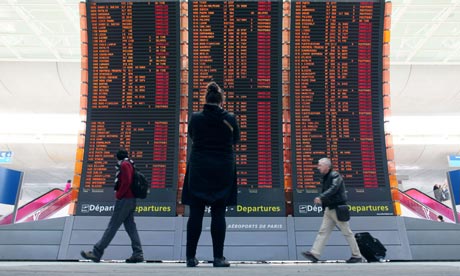 The disruption of flights in Europe continue due to the infamous Icelandic volcano, Eyjafjallajokull (how on earth do you pronounce this?), which erupted last Wednesday. It is sad to say that the estimated earnings before tax generated per month by many airline companies have been dramatically affected. As a matter of fact, they're literally losing several hundred over million of dollars per day due to flight cancellations and delays.
Deadly images captured by the media shows volcanic ash spewing from the mouth of the volcano and penetrating the earth's atmosphere. However, according to some climatologists, the impact of the sulphuric gases emitted by Eyjafjallajokull is not as significant as Philippine's Mount Pinatubo eruption in 1991 and therefore, would not end up altering the global climate.
Am sending my regards out to those affected, especially to my friends who spent their Easter break holidaying in neighbouring European countries and are stranded for the unforeseeable future. The fact that a geologist mentioned that this situation could potentially persist for a few months is definitely worrying.
What on earth is happening?